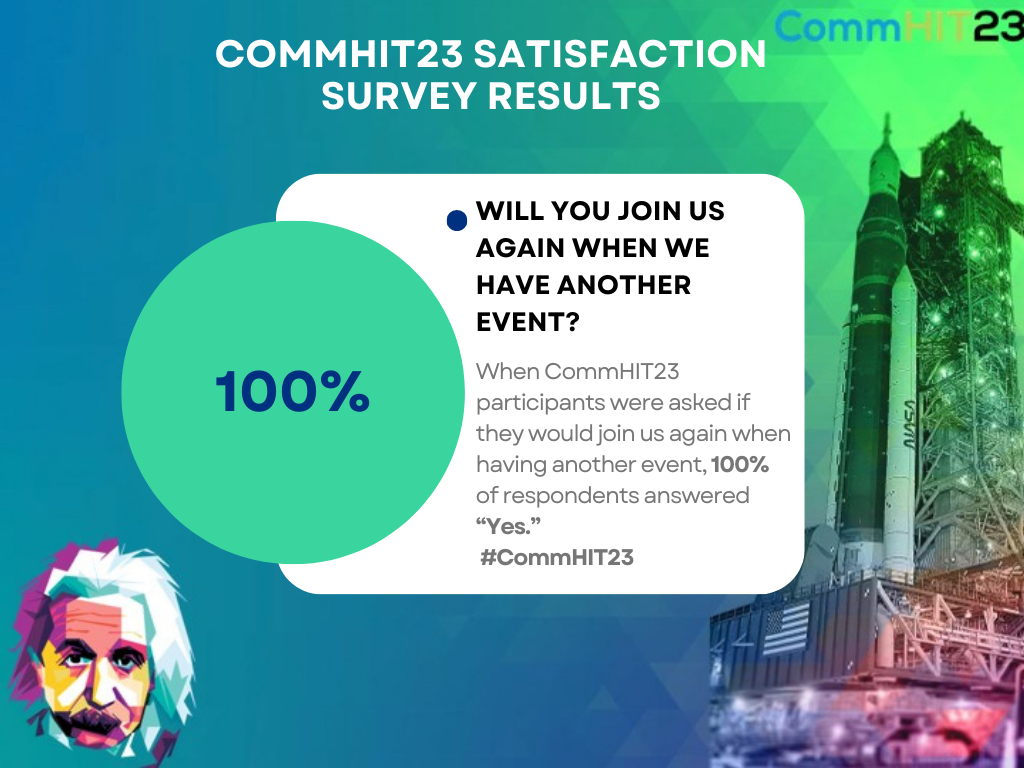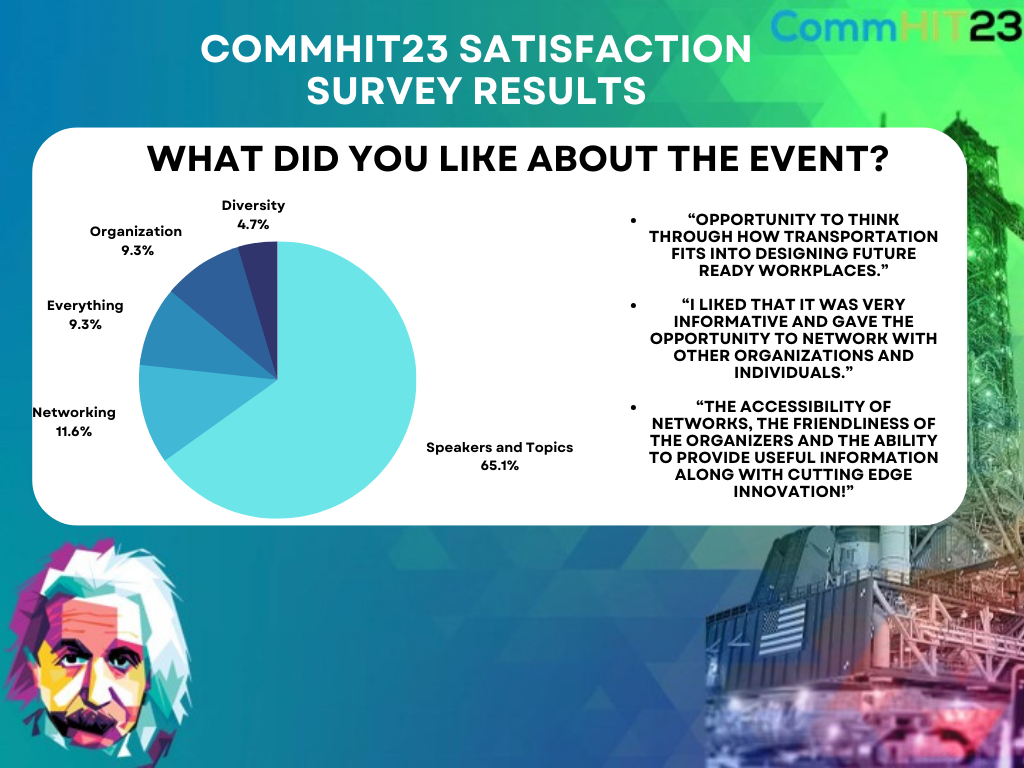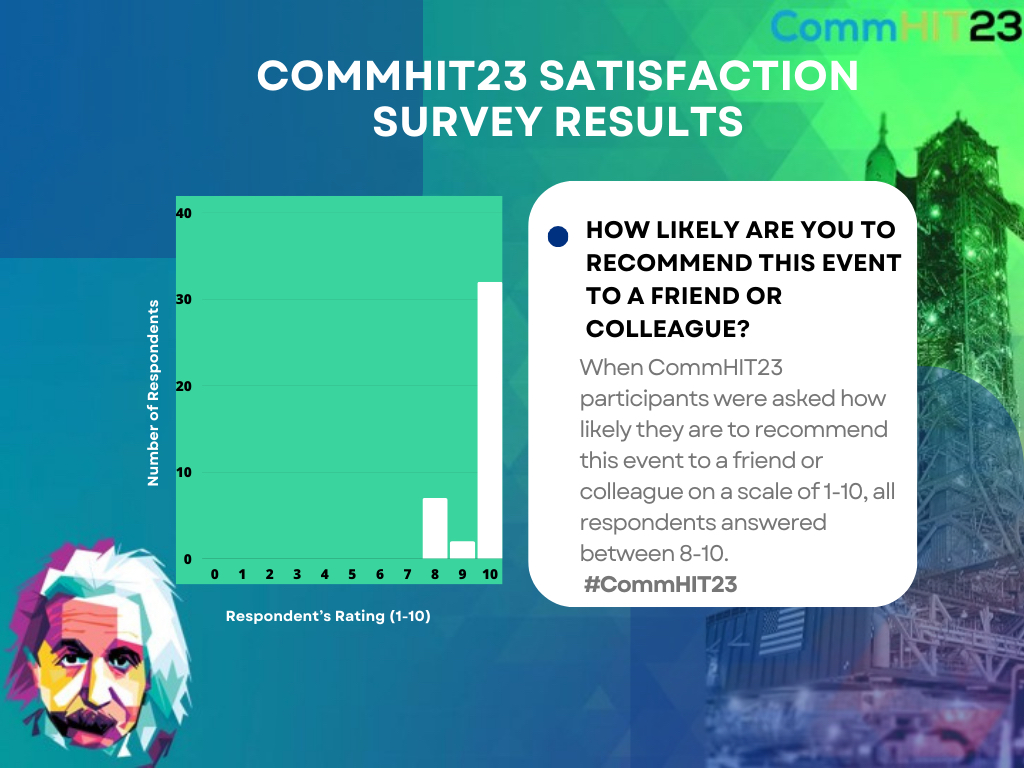 About the Event
Albert Einstein once said, "Never give up on what you WANT to do. The person with big dreams is more powerful than one with all the facts."
Many people have dreams of what tomorrow's workplace will look like, what that workforce will be able to achieve, and how our workplaces will achieve those dreams "one day."
Big dreams are vital, and discovering the facts and opportunities to achieve those dreams is what the CommHIT23 Summit is designed to accomplish.
Tomorrow's resources, opportunities, and connections are available to organizations of all sizes and types—today. Discover, learn, and connect with what your leadership and organizations need as you join other Attendees, Exhibitors, and Speakers at the Kennedy Space Center to achieve your Advanced Workplace.
Attendees
We welcome leaders from all business sectors that are critical to a thriving and prosperous Florida. These sectors include space, aerospace, transportation, logistics, health, tech, education, manufacturing, construction, and government.
Event Purpose
The event prioritizes how technologies, resources, and workforce development models are available now for businesses of all sizes to create a cost-efficient workplace with a thriving workforce.
You don't have to imagine the workplace of "tomorrow" anymore—you can have it… today.
About CommHIT
CommHIT is a 501(c)(6) housed at the Kennedy Space Center's Astronauts Memorial Foundation. CommHIT focuses on the discovery and efficiency of processes and technologies dealing with the care of people—usually in rural, underserved, and otherwise remote areas. Although CommHIT works on "Earth," CommHIT's work deals with efforts that can be used for people in space—as they are remote.
Event Co-hosts
Florida Department of Education, CareerSource Brevard, and CareerSource Flagler-Volusia are co-hosts of CommHIT23. Get acquainted with these cornerstones of the Florida workforce ecosystem at CommHIT23. They can help you build your ideal workforce.
Sponsor & Exhibitor Spotlight
CommHIT and the Professional Association of Health Care Office Management (PAHCOM) go wayyy back and work together like peanut butter and jelly. We're ALWAYS cooking up and serving something exciting. Most recently, our two organizations—with the support of Clark University's $12M US Department of Labor grant—are infusing the US tech workforce with hundreds of people: specifically, 95 women to every one man! Currently, only 25% of the tech workforce is made up of women. Clearly, we're here to Move. That. Needle! If you come to CommHIT23, you'll meet the Executive Director of PAHCOM. She was the senior administrator of a hospital on a Navy ship (USS John C. Stennis)—THE first woman healthcare administrator assigned to an Aircraft Carrier. She served as the CIO for the Naval Dental Command Headquarters. She's also a world record-holding skydiver. So, the sky's certainly not the limit for her! PAHCOM helps workplaces ROCK IT.
Florida Tech's Senior VP for Advancement Gary B. Grant will be showcasing the Florida Tech Advancement Office's virtual office. This innovation gives the team the sense that they are working in the same location—even though they are physically distributed. Whether working at home, on the road, or in the office, the sense of place is combined with a culture of having "open doors," but in the form of being available for instant face-to-face throughout the workday. Overall, the model provides employees with flexibility on where to work, managers with a system for accountability, and teams with a sense of being together.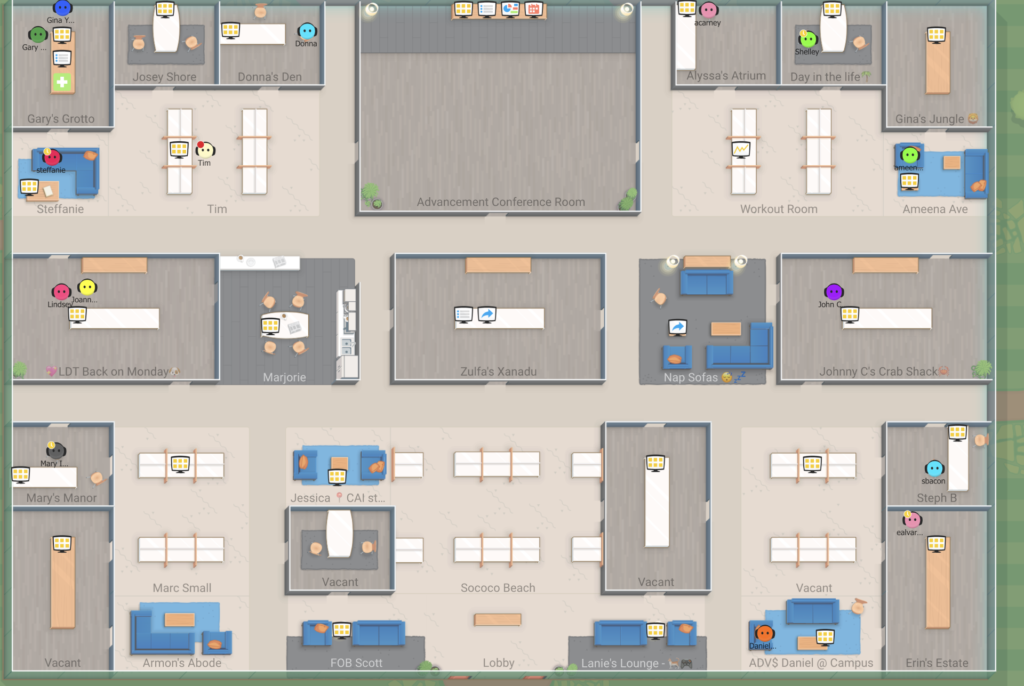 iMediSync is an EEG-centered Integrative AI mental care Platform Company. iMediSync provides a platform for preventive monitoring and evidence-based mental healthcare that can be completed in various environments such as home, school, the workplace, hospitals, and more. It's through a simple, high-quality EEG measurement device for brain diseases with integrated EEG/HRV automatic analysis biomarkers. iMediSync is taking a strong step towards the global standard of digital mental health and making EEG accessible to anybody. Wondering "How can THIS be used in the workplace?!" iMediSync already has an active Employee Assistance Program (EAP) where employees access EEG-guided, near-infrared light therapy to help with stress, anxiety, and improve the quality of sleep. That's how iMediSync is helping businesses "achieve today's advanced workplace." Learn more and see demos at CommHIT23!

The Southeastern Telehealth Resource Center (SETRC) will be bringing their Telehealth Learning Center (TLC) for attendees to explore and experience. Come "kick the tires" (figuratively, please). The TLC is designed to help during disasters, such as hurricanes. It has telehealth equipment, wifi accessibility, electric generators, water, food—you name it. These types of mobile units can be lifesavers and certainly provide comfort in a bad situation.
Have accounting needs? Payroll, tax preparation, audits, or accounting software selection? Meet Accountant Brian L. Harris from WB Accounting Services. He's based in Florida, and ready to help where needed.
CommHIT's CEO is a proud Board Member of Kids in Positive Places (KIPP), and CommHIT loves when KIPP's kids come to visit. KIPP's vision is to create a supportive network of adults that will increase positive behavior, reduce risky behaviors, and improve the self-concept of all youth in order to help them make healthy choices and reach their full potential. You are not judged by the height you have risen, but from the depth you have climbed ~Frederick Douglass
Agenda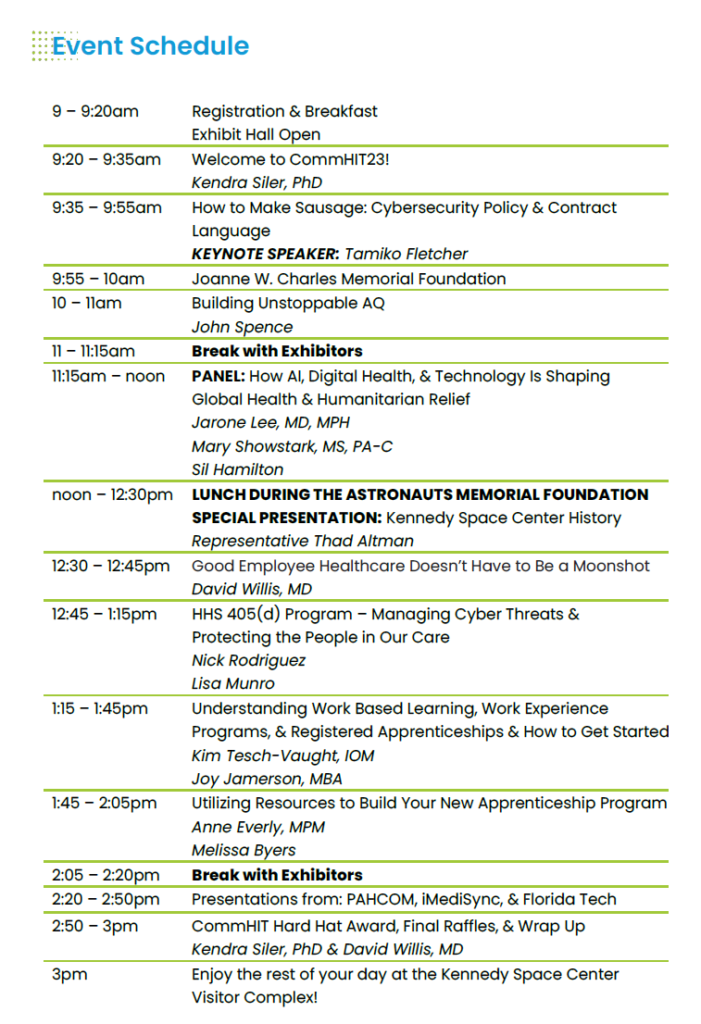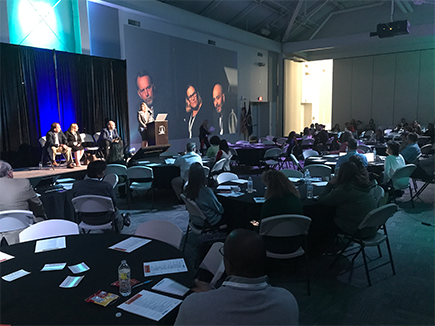 Event Speakers
Tamiko Fletcher
NASA/Kennedy Space Center Chief Information Security Officer (CISO)
Keynote Speaker
Tamiko Fletcher is Kennedy Space Center's CISO and Chief of the Kennedy IT Security Office. Fletcher is a graduate of the University of South Carolina, where she received a BS in computer engineering, and the University of Miami, where she received her master's in industrial engineering. As CISO, she is responsible for minimizing Kennedy's IT security risk, obtaining visibility into IT security operations, and providing guidance for compliance with NASA's IT security standards and federal regulations.

John Spence
Leadership Development Expert
Featured Speaker
For more than 30 years, John Spence has helped people and businesses, including large corporations, worldwide harness success. John is the author of five books and co-author of several more, a business consultant, workshop facilitator, keynote speaker and executive coach with a client list that includes numerous Fortune 500 firms (including Coca-Cola, Apple, and Microsoft) to small businesses, professional associations and other organizations. John's areas of expertise include: leadership, high-performance teams, managing change, organizational culture, consultative selling, strategic planning, strategy execution and the future of business.

Jarone Lee, MD, MPH
President, HTWB
Associate Professor, Harvard Medical School
Lead AI Speaker
Dr. Jarone Lee is president and co-founder of Health Tech Without Borders, Inc. (HTWB), a global non-profit organization aiming to mitigate humanitarian disasters by leveraging digital tools and technology to provide immediate access to health resources. Dr. Lee is also an Associate Professor at Harvard Medical School and the Vice Chief of Critical Care for the Division of Trauma, Emergency Surgery, and Surgical Critical Care at Massachusetts General Hospital. Dr. Lee regularly deploys to support federal disaster response as a Medical Officer for MA-1 Disaster Medical Assistance Team (DMAT) within the National Disaster Medical System.

Mary Showstark, MS, PA-C
Chief Liaison Officer, HTWB
Assistant Professor, Yale School of Medicine
AI Panelist
Mary Showstark is a Physician Assistant and a Yale School of Medicine Physician Assistant Online Program Assistant Professor. Showstark is also an affiliate faculty member of the Yale Institute of Global Health. She is involved in growing the healthcare workforce for the PA profession, globally. She is the VP for PAs for Global Health, a global ambassador to American Academy of PAs (AAPA), a liaison to Euro-PAC, the communications lead for International Academy of PA Educators, and worked with the World Health Organization on the Global Framework for Universal Healthcare.

Sil Hamilton
AI Advisor, HTWB
AI Panelist
Sil Hamilton is a machine learning researcher at McGill University. Hamilton spent the last five years exploring how AI can help bridge the gap between the sciences and the humanities and has published his findings at conferences like ACL, COLING, and AAAI. His work on predicting editorial trends in journalism with GPT has been covered by NBC, The Financial Times, and Le Devoir. Seeking to share knowledge, Hamilton has given talks on language models at the Nieman Foundation at Harvard University, the Brown Institute for Media Innovation at Columbia University, and the Computer History Museum in Mountain View, California.

Rep. Thad Altman
Executive Director/CEO, Astronauts Memorial Foundation
Space Center Education Speaker
Representative Thad Altman oversees all operations of The Astronauts Memorial Foundation (AMF) and the Center for Space Education, as well as AMF's Use Agreement and Space Act Agreement with NASA. He currently serves as a member of the Florida House of Representatives, representing parts of the Melbourne area in central Brevard County since 2016. Previously, he represented a similar area in the House from 2003 to 2008 and served in the Florida Senate from 2008 to 2016.

David Willis, MD
Chief Medical Information Officer, CommHIT
Dr. Willis, a practicing family physician, is CommHIT's co-founder. In addition to remaining on the pulse of healthcare, he has 20+ years of experience as a private entrepreneur, community health center CMO, and hospital CMIO. He established Healthy Ocala in 2007, a secure and private digital mechanism to share patient data in Ocala, FL. CommHIT expanded that into the first rurally-based Health Information Exchange in the nation. Dr. Willis was awarded the 2013 Critical Access and Rural Hospital Champion Award from the Office of the National Coordinator.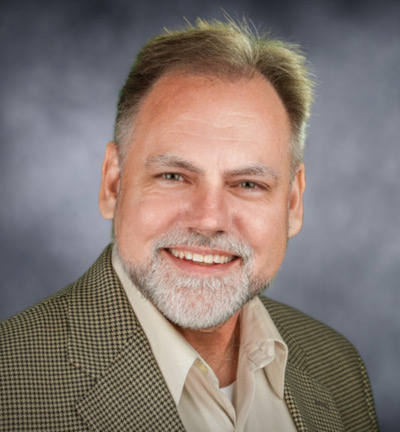 Nick Rodriguez
Program Manager, HHS Aligning Health Care Industry Security Approaches Program
Cybersecurity Speaker
Nick Rodriguez has over 10 years of experience in stakeholder engagement, strategic planning, and project management and is skilled in real time analytics, business analysis, and change management. Rodriguez is the Program Manager for the award winning 405(d) Aligning Health Care Industry Security Approaches Program within the U.S. Department of Health and Human Services (HHS) Office of Information Security. He focuses on providing impactful resources, products, and tools to raise awareness to cybersecurity threats.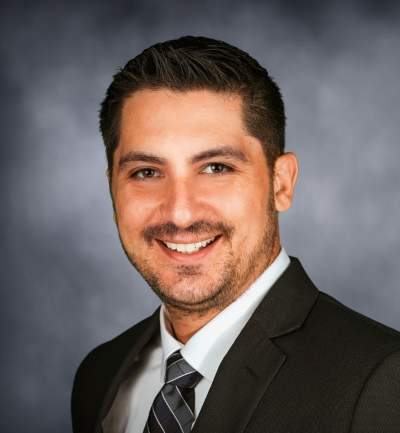 Lisa Munro
Engagement Lead, Aligning Health Care Industry Security Approaches Program (HHS)
Cybersecurity Speaker
As the Engagement Lead for the award winning 405(d) Aligning Health Care Industry Security Approaches Program within the Department of Health and Human Services, Lisa focuses on providing the HPH sector with resources, products and tools that raise awareness and provide cybersecurity practices. Lisa has over 8 years of public service and 5 years dedicated to healthcare cybersecurity practices.

Kim Tesch-Vaught, IOM
Manager of Business Development, PCG
Workforce Development Speaker
Kim Tesch-Vaught is the former Executive Director of Career Source North Central Florida and served as VP of Workforce Development at the Gainesville Area Chamber of Commerce. Today, Kim shares her talents as a Manager of Business Development for Public Consulting Group, Inc. (PCG) and manages Clark University's USDOL-supported Tech Quest Apprenticeship program, of which CommHIT is part. PCG has provided public sector service since its founding in 1986 and currently employs more than 3,000 professionals.

Joy Jamerson, MBA
Program Manager of Outreach, H-CAP
Workforce Development Speaker
Joy Jamerson has 18 years of experience in workforce training and development. She understands that both traditional and non-traditional students face academic challenges and the importance of increasing career knowledge in today's competitive workforce. She strongly advocates making sure higher education and other educational and career opportunities are available and affordable to everyone. Jamerson is the Program Manager of Outreach at the Healthcare Career Advancement Program (H-CAP). Before joining H-CAP, she served as the Workforce Development Manager for Cengage/ed2go where she assisted the US Central Region Colleges and Universities in getting on their state's Eligible Training Provider List.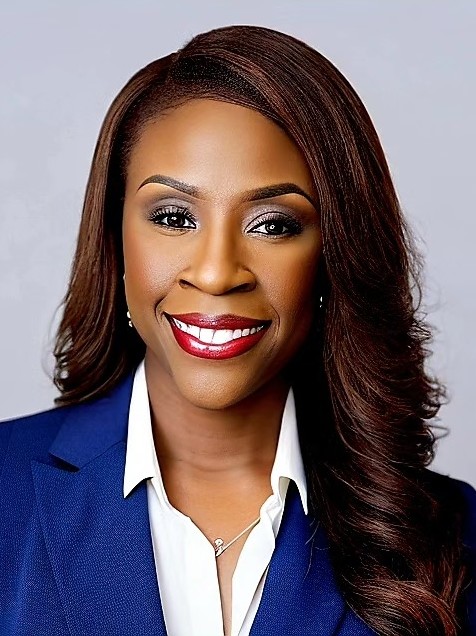 Anne Everly, MPM
FLDOE ATR Region 6
Apprenticeship Speaker
Anne Everly is the Florida Department of Education (FLDOE) Apprenticeship Training Representative (ATR) for Region 6 in the Space Coast area. Anne has more than 15 years of experience working in Secondary Education as the Program Manager for the Take Stock in Children Scholarship and Mentoring Program for Middle and High School Students and the Preapprenticeship and Student Internship Coordinator for the Career and Technical Education Program with Brevard Public Schools. Anne also serves on the Brevard Schools Foundation Take Stock in Children Leadership Council and has a passion for helping students find successful career paths.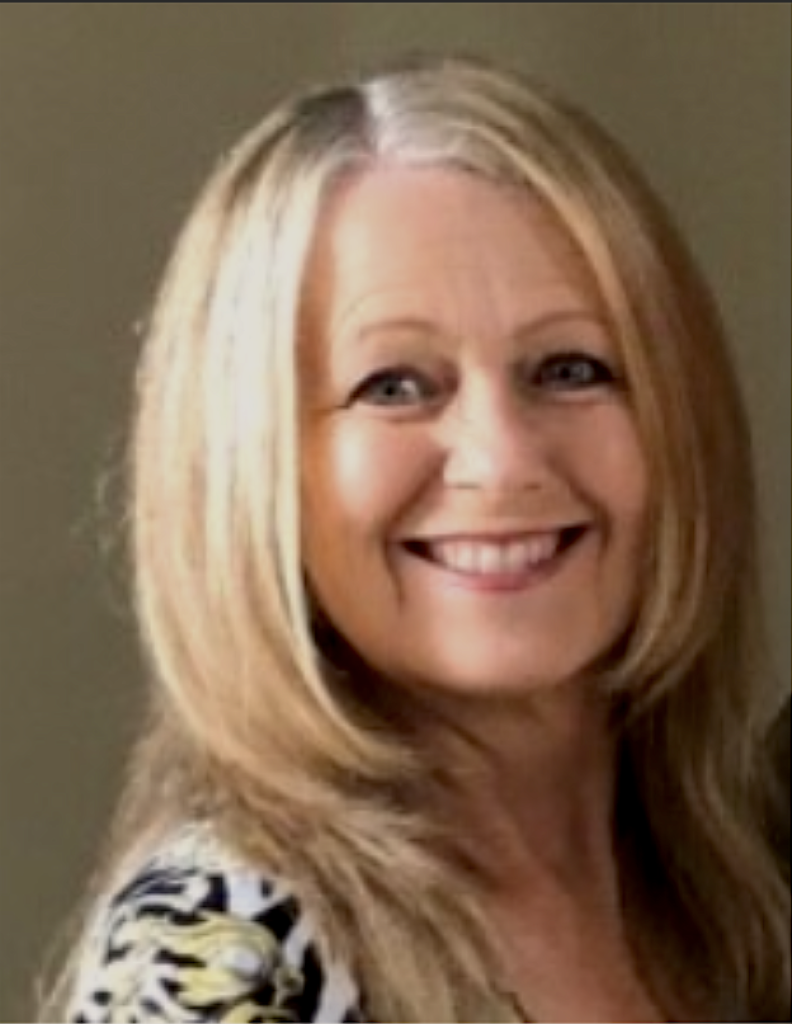 Melissa Byers
Business Liaison, CareerSource Brevard Apprenticeship Navigator, Florida State Region 6
Workforce Development Speaker
Melissa Byers has more than six years of post-secondary technical school education from working at the Motorcycle/Marine Mechanics Institute. While there, she successfully implemented the integration of OEM Manufactures certifications into student curriculum to enhance the learning experience and ensure training met manufacturers' standards. Today, as a business liaison with CareerSource Brevard, Melissa serves the workforce needs of Brevard's construction and hospitality employers.
Kendra Siler, PhD
President / CEO, CommHIT
CommHIT23 Master of Ceremonies
Dr. Kendra Siler is a nationally-recognized leader in supporting rural, underserved, and remote communities. Dr. Siler has been an appointed stakeholder advisor to the Trump Administration White House Office of American Innovation and the Obama Administration White House Rural Council. After COVID was first discovered, Dr. Siler was a panelist for a UN Event addressing how technologies can be used to reduce COVID severity and spread. Specializing in Immunology and Biochemistry, she received her PhD from the University of Florida where she worked on securing centralized patient databases. Dr. Siler is the Wave 1 Lead of the U.S. Department of Health and Human Services 405(d) Task Group and recently developed tech-based registered apprenticeship programs in Florida and the U.S. Virgin Islands.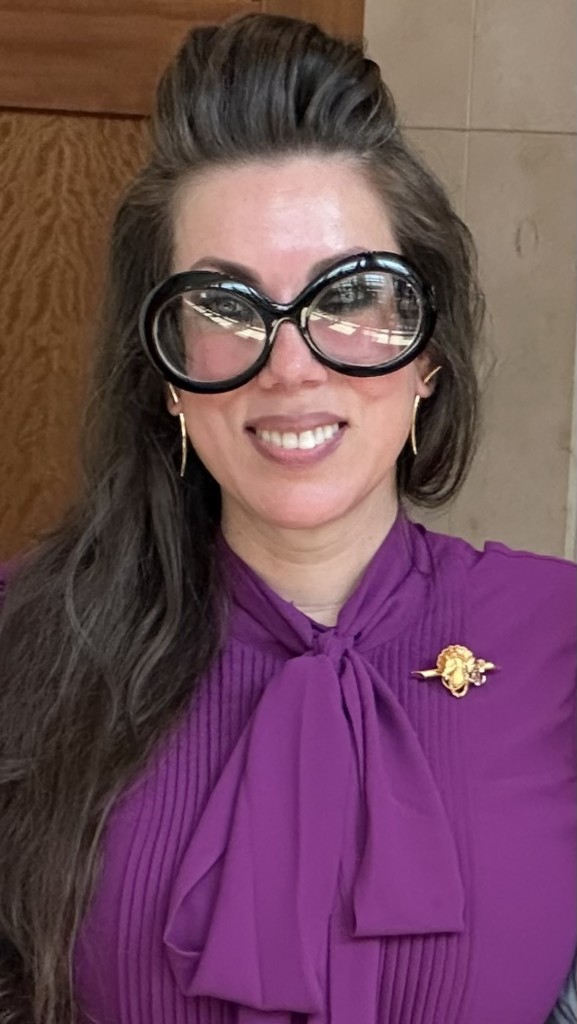 Who's Coming?
The below organizations will be learning and networking together at CommHIT23
1st Choice Urgent Care
Acousti
Adams Career Academy Associated
ADT
Advanced Garage Doors & Gate Operators
AdventHealth
American Aerospace Technical Academy
Apple
Apprentice Florida
ARIBO Autonomous Vehicles
ARTSPEAKSgnv Inc
Aspire at North Florida
The Astronauts Memorial Foundation
Baker County Fire Rescue
Bel Tech Services
Brevard County Fire Rescue
Brevard Public Schools Adult and Career Education Program
CareerSource Brevard
CareerSource Flagler-Volusia
CareerSource Northeast Florida
Center for Family and Child Enrichment
City of Cape Canaveral
City of Gainesville
City of Lake Mary Fire Department
City of Palm Bay
City of Titusville
Clermont Fire Department
Coastal Health Systems of Brevard
Compass Primary Care
Cooperative Health
Coral Springs-Parkland Fire Department
Diversity of Thought, Inc.
Dixie County Fire Rescue
Doctors Memorial Hospital – Perry
Electrical Training Alliance of Daytona Beach
Embraer
Enterprise
Fenney Grill
Florida Blind Company
Florida Community Health Worker Coalition
Florida Department of Education
Florida Department of Health
Florida Health Care Plans
Florida Rural Health Association
Florida Tech
Florida Trade Academy
Fortner Foundation
Gadsden County Emergency Services
Georgia Health Policy Center
Greater Naples Fire Rescue District
Greater Palm Bay Chamber of Commerce
Health Council of Southeast Florida
Health Tech Without Borders
Healthcare Career Advancement Program
Heartland Rural Health Network
Integra Data Management
iMediSync
I Need Blue
International Association of Certified ISAOs
ireland Pay
The IVF Center
John Spence
Kardon Group
Kids in Positive Places
Koppia Images
Kumar Pictures
L.H. Tanner Construction
Lake Butler Hospital
Lake Okeechobee Rural Health Network
Lee County Government
Lori Lambert, MD OB/GYN
Madison County Fire Rescue
MedFleet
Meldon Law
MetroPlan Orlando
MHP Salud
Miami-Dade Fire Rescue
Mobile Health Consultants
Monroe County Fire Rescue
NASA
OneFlorida+ Clinical Research Network
Osceola County Schools
Palm Beach Fire Rescue
Paw Haven Animal Hospital
Pediatric & Family Health and Wellness Center
Per Scholas
PAHCOM
Progress Not Perfection
Public Consulting Group
Remote Clinic Rx
Rolle IT
Sabal Direct Patient Care
Seminole County Fire Department
Seminole State College
Southeastern Telehealth Resource Center
SpaceTEC
Sterling Ideas, Professional IT Services
Titusville-Cocoa Airport Authority
Uniti Fiber
The University of Florida College of Medicine
University of South Florida College of Nursing/Florida Center for Nursing
U.S. Department of Health and Human Services
U.S. Southern Command
Walton County Sheriff's Office
WB Accounting Services
World Innovation Network
Your Home TV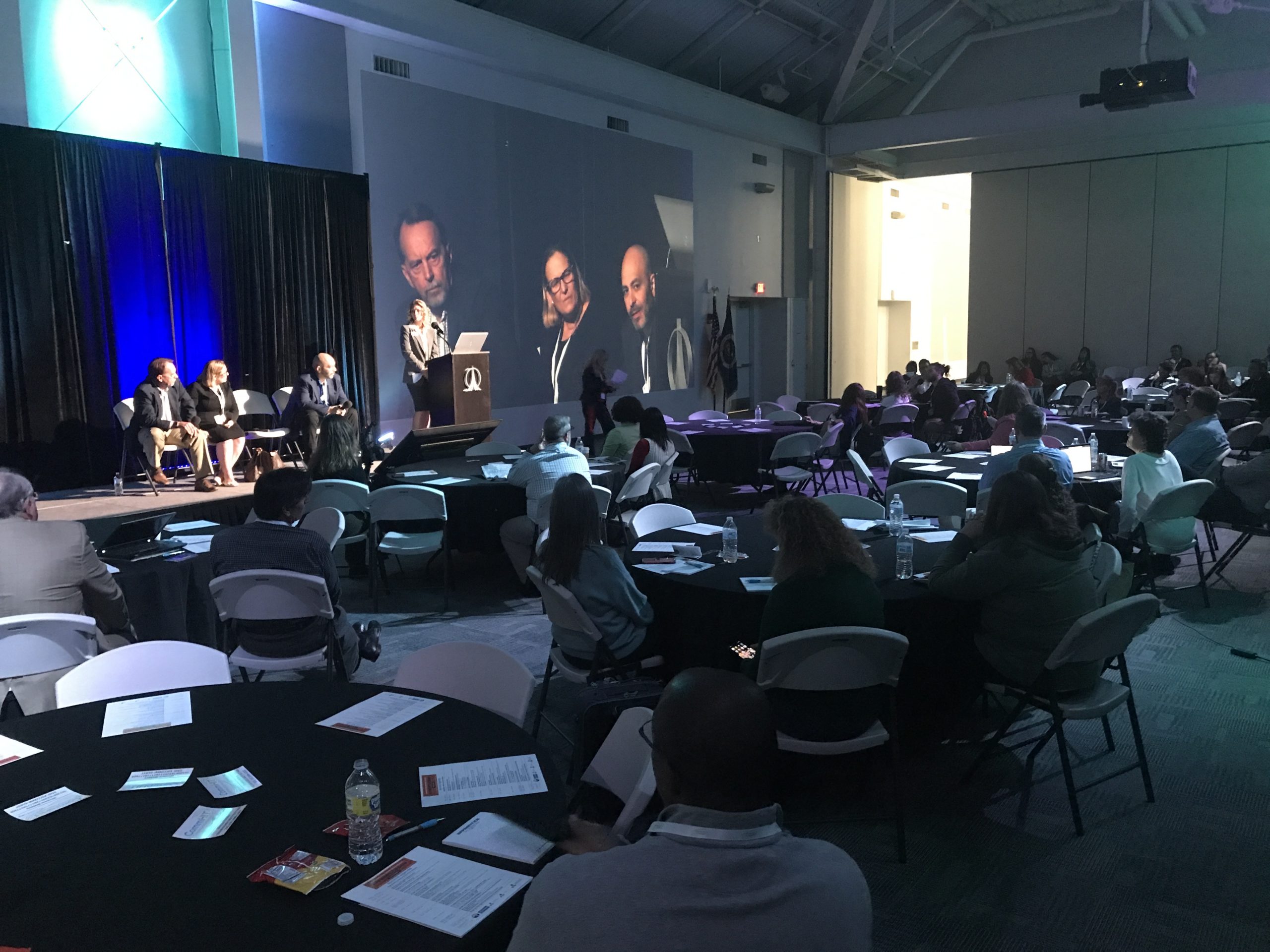 Registration is CLOSED
Registration includes admission to event, breakfast, lunch, and access to the Kennedy Space Center Visitor Complex on September 28 and 29, 2023
$187.75
Travel & Parking
Registered attendees should have received an email letting them know that they are cleared on the NASA security logs and instructions to park and enter. If you are registered and you didn't see this information, CONTACT Jaquesha.Jefferson@CommHIT.org.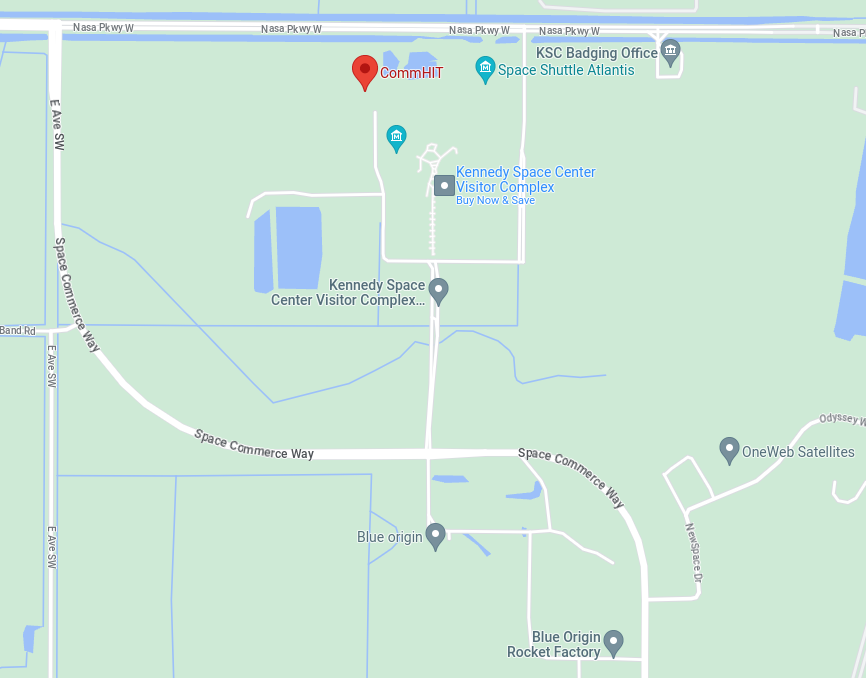 Area Lodging
We recommend booking early, in case hotel rates increase unexpectedly. For instance, hotel rates in the Titusville area go up if a launch is planned. Click below for a (non-exhaustive) list of nearby hotel recommendations.